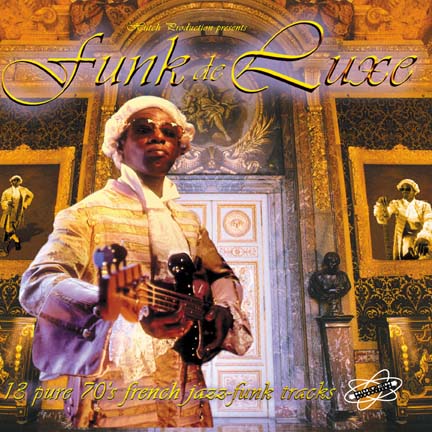 Face 1
1. Synthesis (1976) "Sophie's gift"
2. André Ceccarelli "Gang Progress"
3. Etienne Cap (1979) "Take a Taxi"
4. Edition Spéciale "Mister Business"
5. Airto Fogo "Jungle Bird"
6. Les Wanted "Six, Quatre, Nous"
Face 2
1. Night Creatures "That's the night"
2. Fooka Mainty Band "Let's get it together"
3. VIP Connection "West Coast Drive"
4. Last Exit "Sweet & fool like a Child"
5. Schifters "Old Timmy"
"Funk de Luxe" is a compilation of 13 really rare funky tracks (CD version) produced in France in the 70's. Do not look for well known artists, for national or international stars. These tracks never knew the CD area ! 100 % analogic and proud of it. But if you want to know who were animating this joyous Funk celebration, from its deep roots side to its jazzy style, you would be surprised to find the most sharpy studio musicians of that time. For example, the band "Synthesis" hides behind a beautiful relief cover artists such as François Janneau, André Ceccarelli, Didier Lockwood. In "Last Exit" you will find Christian Gaubert, Jean Schulteis, and Jannick Top and many other music masters
We are so less surprised by the great quality of these music tracks which can compete American productions of that period. Moreover, the "UFO" music track called "Old Timmy", a real rare groove bomb with an over powerful sound, was created by the composer of the French satirical TV cartoon "Les Shadocks" ! With "Gang Progress" (friends of samples, this track is for you) and its anthologic breakbeat was forged by André Ceccarelli the genius who also played with Miles Davis. Dive into the sweet flavor of the texts of "Edition Spéciale" greatly served by an funky instrumental sound, hurt your brain with the heavy weight rythmic of "that's the night" where we discover a Jean-Pierre Sabar with arrangements totally different from what he did with Françoise Hardy. And we let you discover the incredible talent of Jean-Claude Pierric and his friends, the magic groove of the "Fooka Mainty Band", the crazy Disco Funk of Etienne Cap, the break beats of Airto Fogo, the power of VIP Connection. In this ultra dancing ensemble which will change yours minds, there is a homogeneity of rythm and sound, as the compilation has been thought and made with love of the good sound and in the respect of listeners. As usual Hutch Production was not looking for the trade side but tried to build a homogeneous project with a unique quality. In this kind of music where sharks with money think they are gold prospectors, Hutch Production doesn't forget that the essential remains the satisfaction of the most strict audience as the one of collectionnors (such as us) and the adhesion of a larger audience that this bomb collection will not let insensitive. With fidelity and humility we let you eat this "Funk de Luxe" and continue to keep the Funk alive !
( from http://hutchprod.free.fr/ )
>>>>>>>>