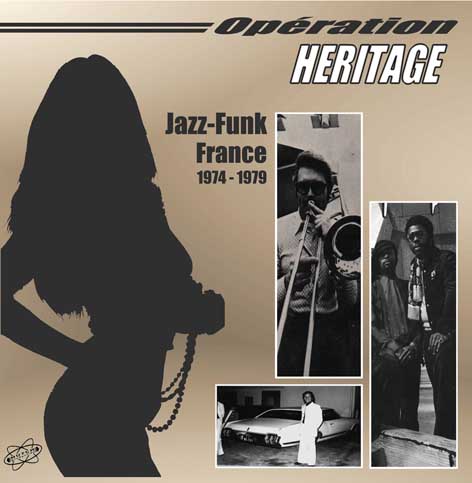 After your request, here is OPERATION HERITAGE !
The French Jazz-Funk was born. It's not a badly imitated American funk. This music succeeded in being a crossroad, a hub of Jazz and popular music. In other words, a music both wholly accessible and skillful and at the same time dancable and cerebral. It couldn't wait any longer to make this music known. Come and enjoy the sound of the groovy French hippies of CORTEX, the powerful Funk of ICE ( "the seven Americans in Paris"), the marvelous melodies (check out the loops!!!) of Daniel Janin and Jean-Claude Pierric, the beat of Harlem Pop Trotters, the disco-funk of Etienne Cap or the jazz-funk of Chute Libre. This is pure roots and funky music from the 70's !!!!!!!!!!!!!!!!!!
Face 1
1. Chute Libre (1978) " Octopus "
2. Last Exit (1979) " Sweet Maryline "
3. J.L Férré et son orchestre (1975) " dig yourself up "
4. J.D Mercier (1979) " Après Noël "
5. D. Janin et J.C Pierric (1977) " Rolly Pooly "
6. Cortex (1975) " Huit Octobre 1971 "
Face 2
1. Ice (1976) (unrealeased) "Time Will Tell"
2. Les News Boys (1976) "Four Forth"
3. Harlem Pop Trotters (1974) "La Moto Verte"
4. D. Janin et son orchestre (1975) "Saramina"
5. E. Cap and his orchestra (1979) "Pass The Pepper"
6. Rhythm machine (1976) "If I Could Live"
>>>>>>>>>>>>>>